Confused and not able to decide which type of roof is better for your house? If yes, you should first analyze your roofing needs. If space is all that you want, a flat roof system will be the best for your house. Having doubts about the flat roof, here are some of the advantages on having a flat:
Flat roof has easy access

Minimal slope and flat surfaces, is simpler to access things like rain gutters, sidings etc. Maintenance is easy on a flat surface and you can personally go up there to see what is wrong with your house roof.
Flat roof is affordable

No need for shingles and other decorative materials on the flat surface, construction cost is reduced to a recognizable level. There are fewer complications repairing damages on the flat surface. Which reduces the cost to a higher level.
Flat Roof has longer life

The composition of flat roof is easy to maintain. Lasting for over thirty years. Flat roof systems is best for commercial buildings where space is the major concern.
Space for placing equipment

If you were looking for some spacious solutions that can help you accommodate equipment like AC vents and exhausts, the flat roofs are best.
EPDM Roof Systems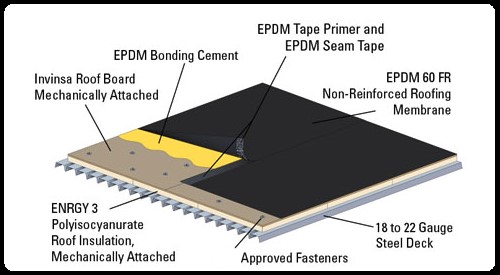 EPDM, or Ethylene-Propylene-Diene-Monomer, roofing systems are the number one choice for buildings with low slopes, and have become increasingly popular in both new developments and roof restorations. Known for their characteristic dense, synthetic rubber membrane. Which is based on their installation versatility, long lifespan and low maintenance requirements.
This particular system is comprised of a single layer.
Why choose EPDM?
Ideal for low slope roofs and restorations
Choice of installation methods
Long track record of success
Very easy to maintain
Exceptionally waterproof and UV-resilient
TPO Roof Systems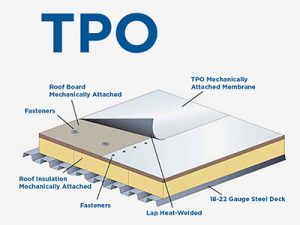 TPO, or Thermoplastic polyolefin, roofing membrane is white. Companies are able to consume less gas or electricity to cool their buildings, their operations have a reduced environmental impact.
Built-Up Roofing Systems
The long-standing favorite utilizes layered redundancy and unmatched tensile strength, allowing it to survive even the harshest weather and climates. From a cost/value perspective, it continues to prove itself as one of the best all-around values in commercial roofing applications.
Built-Up roofing systems are comprised of multiple layers of an asphalt and fiberglass mixture, installed in overlapping (redundant) layers.  Minimizing the costs associated with maintenance and repair. Possessing many desirable qualities, it is famed for its unyielding strength, long-lasting durability and natural insulating properties. This unique mix of attributes has given it a reputation for providing years of protection against leaks and punctures.   For those concerned with safeguarding their property at the highest level.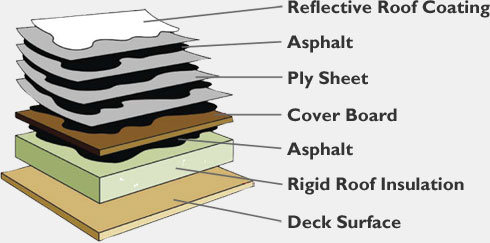 Why choose Built-Up Roofing?
Over 100 years of successful use in commercial applications
Superior protection against heat, cold, wind, rain, snow and hail
Long lifespan with minimum maintenance
Ideal for high traffic areas, high tensile strength
Can combine with Modified Bitumen
Modified Bitumen Roof Systems
For buildings which regularly encounter foot traffic, Modified Bitumen remains one of the industry's most popular and time-tested roofing systems. Modified Bitumen unites a combination of materials known for their superior protection properties, including asphalt polymers, polyesters and plastic forming compounds. Together, they form an air-tight seal that has become known for its ability to safeguard against leaks, cracks, moisture, and sun-related damage.
At Tekroof we pride ourselves on several important factors. Workers who are highly skilled and experienced professionals; they are polite, courteous, and respectful. We are highly qualified project managers. We pay attention to every detail.
[button size="medium" style="primary" text="Request A Free Quote" link="https://www.tekroof.com/free-roof-quote/" target=""]